Invisalign For Straighter Teeth In North Plainfield, NJ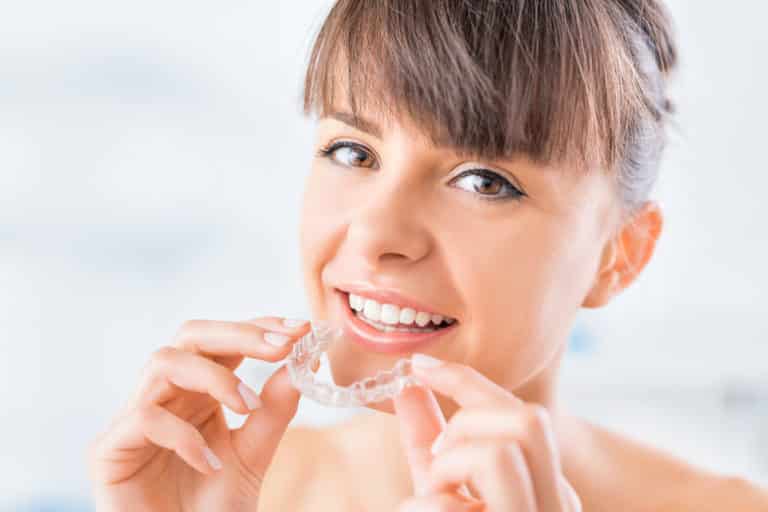 When a dentist utters the words "Orthodontics" patients immediately start thinking of metallic braces and a sense of dream follows! Metallic braces don't blend in with the natural facial features, are uncomfortable and put a lot of restrictions on the individual's food and beverage choices. 
But at Dental Designer, NJ when Dr Harmanpreet Kaur says, "Orthodontics", her patients smile and readily agree to the treatment! Because at Dental Designer, NJ, Orthodontics means Invisalign. 
Invisalign is the most modern, customised and innovative way to treat crooked and crowded teeth in teens and adults alike. It helps you find your brilliant smile and restores your confidence! 
On this page, accredited dentist Dr Harmanpreet Kaur of Plainfield, NJ covers all you need to know about the Invisalign treatment. Dr Harmanpreet Kaur is also a certified Invisalign Specialist and hence has the expertise to elaborate on this topic in detail.
What Is Invisalign? 
Dr Harmanpreet Kaur explains that Invisalign is cutting-edge technology created by the company Align Technology. Invisalign is an orthodontic appliance system used to inconspicuously treat crooked and crowded teeth in adults and teens. It is the process of wearing a series of clear, removable aligners that gradually straighten your teeth. Invisalign clear aligners are made of flexible plastic. The aligners are thin, clear, and fit snugly over your teeth, making them virtually invisible. Invisalign clear aligners are FDA-approved and contain no BPA, BPS, latex, or gluten.
What Dental Problems Are Corrected By Invisalign? 
Dental Designer, NJ has listed down the dental problems that can be corrected via Invisalign treatment.
Protruding teeth

Mild overbites

Mild underbites

Gaps in teeth

Overcrowded teeth

Excessive central tooth overlaps

Imperfect positioning of teeth when the mouth is closed

Mildly crooked teeth
Please note that Dr Harmanpreet Kaur suggests using Invisalign trays only if the problems listed above are mild. For severe stage dental problems, traditional orthodontic solutions are far more effective.
What Are The Features Of Invisalign That Make Them Unique? 
Every Invisalign clear tray is manufactured to suit the unique needs of the wearer. (There is no mass manufacturing)
The aligners provide a slight resistance to the teeth, forcing them to move into alignment over time.
Invisalign trays can be worn at all times except when eating your food or brushing and flossing. 
Unlike braces, Invisalign is virtually invisible to the naked eye. Even when you laugh or talk, people may not notice that you are wearing Invisalign. 
Invisalign treatment involves wearing a sequence of trays that vary slightly from one another as you progress forward in the treatment. The trays are built in such a manner that they help your teeth adapt a new position slowly over time, without any adverse effects. 
Invisalign is a great solution for both adults and teens. 
Who Is an Ideal Candidate For Invisalign Treatment? 
Dr Harmanpreet Kaur, the Board-certified dentist of Dental Designer, NJ has set down some fundamental criteria for determining whether or not a person is an ideal candidate for Invisalign treatment. They are as follows: 
A candidate whose teeth have grown completely (hence children and younger teens cannot be eligible for Invisalign) 
A candidate who is suffering from any of the dental problems mentioned in the section "What Dental Problems Are Corrected By Invisalign?" 
A candidate who may not be willing to undergo traditional orthodontics care for lack of time or fear of discomfort. 
When you come in for your dental examination Dr Harmanpreet Kaur will let you know if you fit into the above-mentioned criteria.
What To Expect Before The Invisalign Treatment? 
Dr Harmanpreet Kaur will conduct a thorough dental exam of your teeth. She may also take X-Rays to understand the dental issues you are suffering with. Once the examination is done and she concludes that Invisalign is the way to go forward for your case, Dr Kaur will do a 3D scan of your teeth using iTero Scanner. 
This scanner ensures that every mm of your teeth, gums and the shape of your mouth is captured perfectly for designing and manufacturing your Invisalign trays. After that, Dr Harmanpreet Kaur charts the road map of your treatment which includes noting down the possible shifts in the teeth and how they will slowly adapt to the desired position. 
Since Invisalign provides a new clear tray for every new phase of the shift in your teeth this roadmap plays a vital role in manufacturing the perfect sequence for you. 
What To Expect During Your Invisalign Treatment? 
Dr Harmanpreet Kaur, the Board-certified Dentist of Plainfield, NJ works with experts at Align Technology to build unique Invisalign clear trays for you based on your 3D smile scan and roadmap. 
When the Invisalign trays arrive, you will be called in for a session at Dental Designer, NJ. Dr Kaur will give you the first Invisalign tray and begin your treatment. You will be asked to wear the said tray for a minimum of two weeks for a minimum of 20-22 hours a day for the best possible results. When eating your food or drinking a hot/cold beverage, remove the Invisalign tray. The Invisalign tray should also be removed when you are brushing your teeth or flossing them. 
Dr Harmanpreet Kaur, of Dental Designer, NJ will schedule your next appointment when it is time for you to move to the next Invisalign tray. With every dental visit, you will start seeing a visible change in your teeth and their alignment. 
The length of Invisalign treatment depends on multiple factors, like how complex your case is and how often you wear your aligners. Dr Kaur, a certified trained Invisalign specialist, will determine exactly how long your treatment will take based on your specific needs. On average, Invisalign treatment time is 12 to 18 months, though you can start seeing results in a matter of weeks. Our office will schedule regular appointments, usually about once every four to six weeks. The goal of dentist visits is to ensure your Invisalign treatment is progressing as planned.
Apart from that, the Invisalign tray will not hamper your lifestyle at all.  You can continue to eat your favorite food, play your favorite sports and follow your normal schedule without worrying about the Invisalign tray! 
What To Expect Post-Invisalign Treatment? 
Following your treatment, you will no longer need to wear Invisalign trays. However, you will need to wear a retainer each day to help protect your new smile. It is also important to continue visiting your dentist, Dr Harmanpreet Kaur for routine check-ups and twice-yearly cleaning.
What Is The Cost Of Invisalign Treatment?
In most cases, the cost of Invisalign treatment is similar to the cost of braces. Dental Designer, NJ will determine the cost of your treatment based on how complex your case is and how many aligners you need. 
There are several options to make Invisalign treatment more affordable for you, from using insurance and tax-free dollars to a monthly payment plan. Please check our Patient Financing and payment plans for financing your Invisalign treatment.
What Are The Risks Associated With Invisalign Treatment? 
As with any medical treatment, Invisalign treatments also have their fair share of risks. It is essential that as a patient you are well-informed about the risks before you make the decision of whether or not you wish to opt for this treatment. 
Following are the risks associated with Invisalign: 
Invisalign may affect the vitality of your teeth. It may have an adverse effect on the nerves which may lead to other restorative dental treatments. 
Invisalign may cause discomfort with your teeth. You may experience scratched gums, cheeks and lips, mouth dryness, and speak with a lisp until used to the trays.
It is possible for your teeth to not maintain their straightness after the treatment is over. 
You may have to wear a retainer for several years after the Invisalign treatment to maintain the straightness of your teeth. 
The aligner can break during the course of the treatment. 
Some people may swallow or breathe in broken aligners
Higher risk of TMJ
Possible allergic reactions
Undesirable results
Consult Dr. Harmanpreet Kaur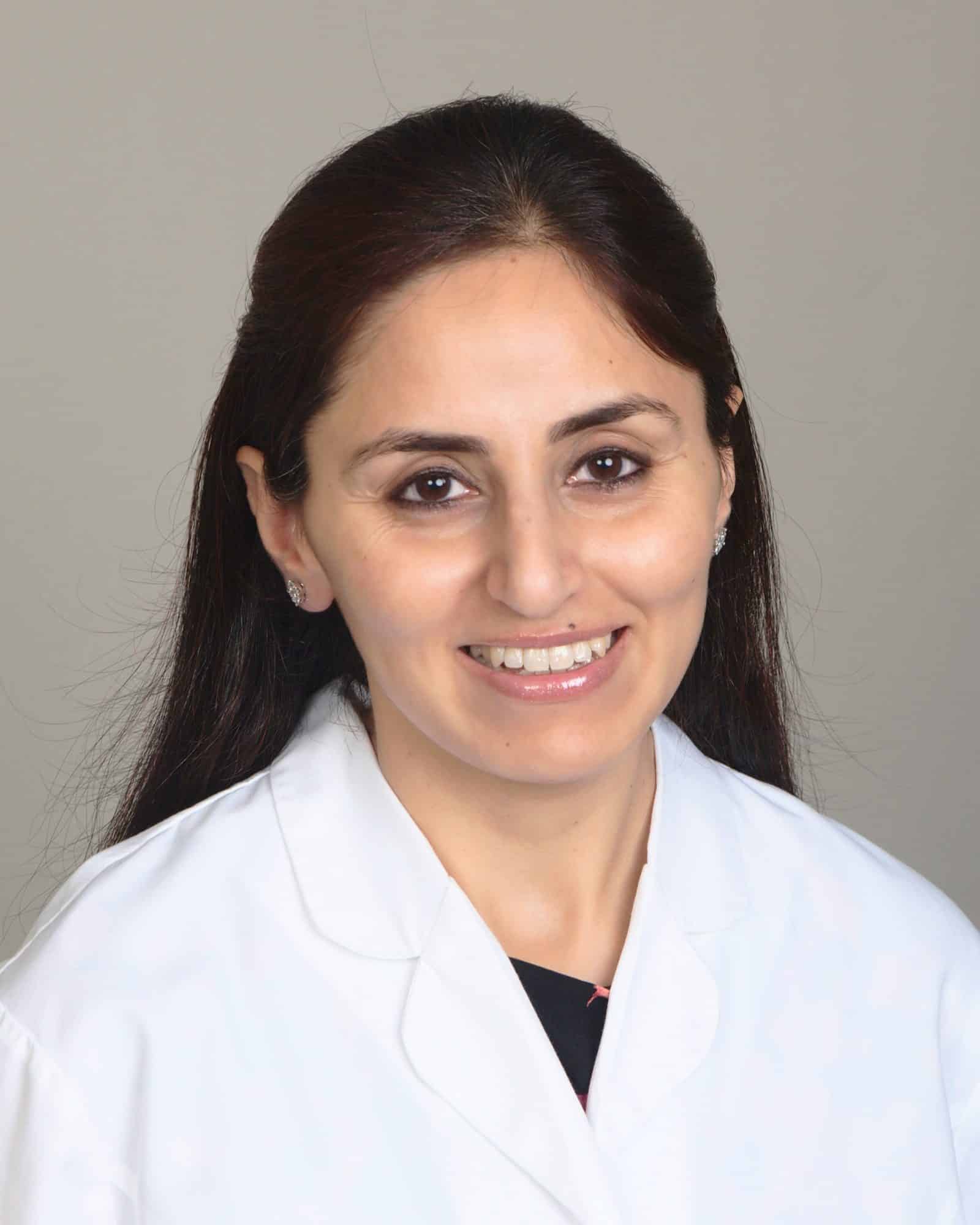 As a general dentist, Dr. Harmanpreet Kaur is committed to providing comprehensive care and clinical excellence.
She has more than 15 years of experience as a General Dentist and is a member of the American Dental Association and the American Academy of Implant Dentistry.
Dr. Harmanpreet Kaur attended New York University College of Dentistry for her dental education (DDS) and graduated with Honors. Before taking over Dental Designer in 2016, Dr. Kaur worked in several high-quality dental offices in Central Jersey.
She is committed to offering her patients the same level of clinical excellence as she learned from her world-renowned teachers/practitioners, including celebrity dentist Dr. Gerry Curatola. Passionate about the importance of continuing education, Dr. Kaur has completed extensive advanced training in cosmetics, oral surgery, and anesthesia.
Book a consultation with Dr Harmanpreet Kaur. At the consultation, Dr Kaur will:
First perform a thorough examination of your teeth, gums and jaw.
Explain the problem to you.
An X-Ray of your teeth will be taken if needed.
We recommend you openly discuss your concerns with Dr. Kaur
During the consultation be prepared to discuss:
Your medical conditions, drug allergies, and previous dental treatments.
Current medications, vitamins, herbal supplements, if any.
Likely outcomes, and any risks or potential complications.
You Might Be Interested In